DATE: APRIL 7, 1991
POSSIBLE LOCATION: TEMPLE OF DENDARA, EGYPT
POSSIBLE TIMELINE: BC


"Ravens. I am Mortimus, the great and consequential agent of the lord god Hasthor (Hathor).




Emissary. Awakening of the spirit and alchemy. Bespeak it of bread. Rosemary. Consequence. Rosenthorn (Rose & Thorn?)



Elegant surroundings bespeak the soul. For in of, we create the drama bespeaking ourselves of that for which a person mends. For each time, we are given a set of beings for the destruction and danger of re-creation and a sorting of consequences. I came here to help in mastery, a soul complex, the melding of spirit and anthology. For, betwixt the smile and the acrimony, there is suffering.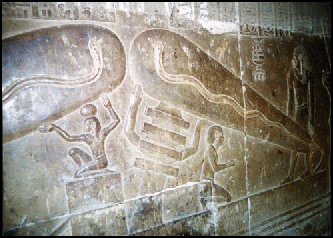 Elegant surroundings betwixt the main and the waterway, seen to be an anchor, meant for the chain. Go within to find the route to the ceremony. Seek ceremony. Conscious intent.

Israel. Parchment."


NEXT PAGE



FRONT COVER
INTRODUCTION
BACK COVER

Copyright 2007 - 2018.Asha of Antares.Asha Ariel Aleia.All Rights Reserved.
Background courtesy:www.worldtrek.org
image courtesy:www.catchpenny.org
www.hwt-hrw.com
metals.about.com
www.cowcountryfabrics.com